Wondering what's new in home decor for 2017? Gold fixtures – including faucets, lighting fixtures and furniture trim – have been making waves for a few years now, and there's no sign that they're going to fade out of favor any time soon.
There's something new with the gold trend, though. In years past it was often paired with white for a fresh, airy look. This pairing spanned everything from beach cottage style to Hollywood Regency looks. And those are great, but have you noticed how amazing gold looks paired with black? Based on the gorgeous new lights at the Dallas International Lighting market in January, it looks like black is the new… black… after all, and it plays very nicely with gold when it comes to the hottest new lighting fixtures.
Take a look for yourself at this trend in action:
Minimalist Pendants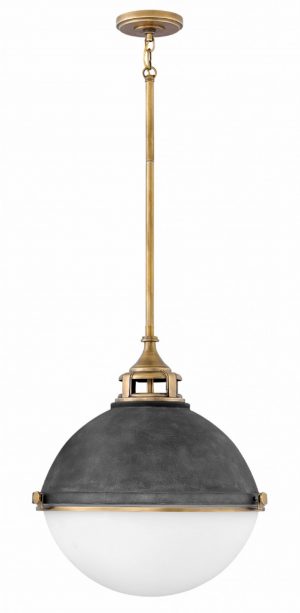 Fletcher Pendant with Etched Opal Glass
Though gold has a reputation for being ornate and perfect for scrollwork and Victorian styles, it also looks très chic in modern pendant lighting. This look keeps the gold with a rich patina that offers just a bit of luster to contrast against the black shade. A line of these pendants over a kitchen island will direct the light down to the countertops and add a bold statement to your décor.
Crystal Chandeliers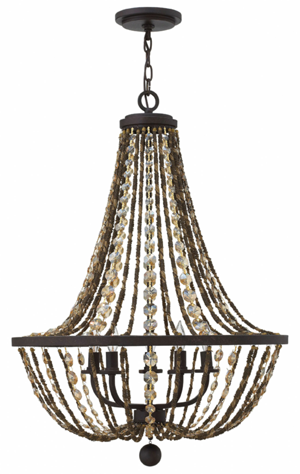 Hamlet Chandelier
On the other end of the design spectrum are sparkling chandeliers that add drama and romance to any room. You don't have to live in a sprawling mansion to enjoy a touch of sparkle in your dining room – or better yet, your master bath. A hint of gold adds a subtle shimmer to the glittery baubles on this piece, yet it's anchored by a dark finish that makes the whole piece more substantial.
Classic Candle Lanterns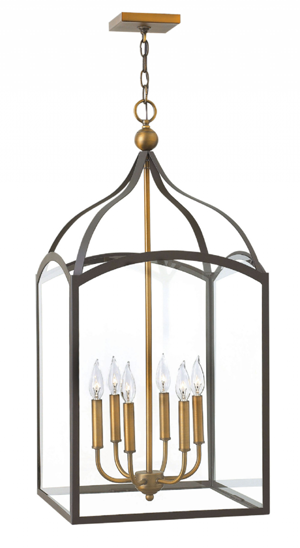 Clarendon Bronze Hanging Foyer Light
If a chandelier is a bit too much for your modern home, try the transitional look of a hanging fixture styled like a lantern instead. This fixture combines the classic lines of an outdoor lantern with on-trend black and gold for its framing. The gold base for the candle bulbs shimmer gently in this bird cage-inspired hanging lamp.
Making Black and Gold Work for You
What makes 2017's black and gold trend feel fresh instead of dated? Take a good look at the gold in each of the fixtures above. Rather than being bright or brassy, the metal has a more matte look and a richer tone leaning toward coppery or rose-gold undertones. The black portions, on the other hand, are often textured, which keeps it from looking flat or dull. When paired together, black and gold are kept in balance, and the result is that you get an elegant lighting fixture that works in all sorts of spaces.
How will you use this trend in your home this year?