In the world of inspired lighting and tasteful home design, Modern Farmhouse style is a well-established favorite. The friendly atmosphere this trend evokes is immediately identifiable to design connoisseurs, but what lies at its heart? Here are the three defining characteristics that you need to know about to understand the ambiance that pervades Modern Farmhouse lighting. 
1. Deep-seated Pastoral Influences
As the name implies, Modern Farmhouse looks to rural settings for inspiration. From the country farmsteads of ages past to more recent Colonial architecture, the ethos of this style remains defiantly entrenched in a simpler way of life.
Interestingly, Modern Farmhouse still functions quite well with contemporary installations, like pendant lighting. Thanks to the diverse nature of the farmhouses that originally inspired this aesthetic, today's designers have plenty of ways to express authentically rustic tastes.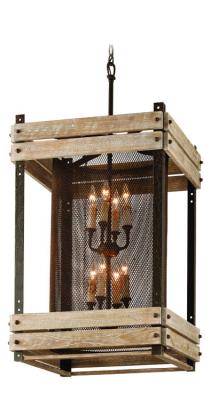 2. Reclamation of Resources
Modern Farmhouse lighting fixtures vary widely. They can be simple and refined or downright rustic. Some fixtures even feature unique, minimalistic designs that make use of open space. This kind of design favors those who aren't hesitant to embrace imperfections. As opposed to the flawless, polished surfaces of many lighting fixtures, Modern Farmhouse style thrives on variegated patinas, recycled timber and weathered finishes. 
Don't be deterred by a new or unoccupied residence – you can still use Modern Farmhouse philosophies to make it look lived in and authentic. Keep in mind the aforementioned patinas and weathering to "age" your space.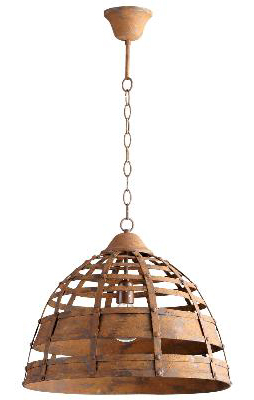 3. Imaginative Problem Solving
When you imagine an old farmhouse, you don't picture a sleek, put-together bachelor pad or loft. Those who seek out this style prefer to feel as if they're occupying living, breathing spaces with a sense of nostalgia.
Want to arouse a similar sentiment? You can't be too timid to innovate. In one home, for instance, Carolina Lanterns and Lighting's own Shannan Payne Preston merged barreled profiles with acid-spray-washed copper to create unique chandeliers. In the process, she added a coordinated, time-worn feel to a distinctly modern, multipurpose space. You can read more about this project in Charleston Home and Design Magazine's spring issue.
These custom fixtures were visually distinct from the colonial lantern set that adorned the home's front entryway and the airy pendant lighting in the dining areas. Nonetheless, they all worked together to unify the property's clear sense of personality. By venturing beyond the conventional and integrating lighting elements with different visual flavors, Shannan was able to create Modern Farmhouse lighting that hearkened to the inventive, purpose-focused spirit that drove design pioneers of the rustic past.
Are You Ready to Get Back to Basics?
Modern Farmhouse style is yours to personalize and refashion with lighting fixtures that range from classic Carolina Lanterns to custom pendants and chandeliers. Are you ready to get back to basics with this style? You can follow our Modern Farmhouse style pinboard on Pinterest to discover the latest trends and get inspired.
Better yet, talk to a Carolina Lanterns and Lighting expert about your upcoming design masterpiece. We love tackling new challenges, and we can't wait to see how you make Modern Farmhouse your own. Reach out to one of our team members to spark the conversation.